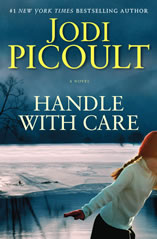 Jodi Picoult, one of my favorite authors, has come out with a new book! When an author I love comes out with a new book it's like Christmas all over again for me. Her newest book is called Handle With Care. This snippit of info comes directly from a Goodreads Exclusive - Author Interview.



Jodi Picoult admits that her notoriously controversial books shouldn't sell. After all, she hand-picks incendiary topics such as the death penalty, organ harvest, and date rape, and she routinely drops her characters into gut-wrenching moral dilemmas. Despite the heavy material, Picoult's books, including
My Sister's Keeper
, which is also an upcoming film starring Cameron Diaz, are perennial favorites on bestseller lists. Her newest book,
Handle With Care,
wades into the legal quagmire of wrongful birth lawsuits, in which parents declare under oath that they wish their disabled children had never been born. Picoult talked with Goodreads about the challenges of juggling motherhood and a full-time writing career.


Goodreads
: What inspired you to write about a wrongful birth lawsuit?


Jodi Picoult
: One morning in a New York hotel, I read this article in
The New York Times Magazine
about a woman who had sued for wrongful birth, and I had this immediate, knee-jerk reaction: "Oh my God, who would ever sue for wrongful birth? That's disgusting." I really didn't know a lot about the topic, but as I started to read this article I realized that this is such an amazing issue. It takes one of the big, knockdown, drag 'em out controversies in this country, which is abortion rights, and it takes it one step further. It is not even talking about abortion rights; it's asking, beyond that, who gets to decide what makes a valuable life? To me, that is a really interesting question, and it just seemed like the biggest, hottest mess.
Pin It Now!